Professional Services
We believe our teamwork approach adds a broader perspective to all we do and provides increased benefits to our clients.
Our team of financial professionals can help you address:

Investing principles and strategies
Retirement investing and distribution strategies
Estate conservation issues
Risk management

We also can answer your questions, including:

Can I retire early?
Are my investments working hard enough?
What's the best approach for college savings?
What are the elements of a sound estate strategy?
Do I have enough life insurance for my family?
Our experienced professionals have helped many people just like you with similar issues and concerns. We specialize in creating an approach that is designed to address your individual situation.
---
Comprehensive investment experience and services.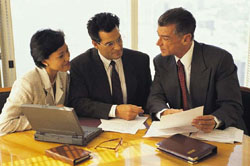 At Desimone Financial & Insurance Services we understand that each client's financial situation and goals require a customized approach to investing, and that many investment objectives can change over time. Whether it's saving for your children's college education, financing a business, or planning for retirement, we offer the financial planning, resources and ongoing management with a goal of helping you succeed in your personal and business life.
Capabilities Brochure
This is our firm's full capabilities brochure. Whether you're a first time investor or an old pro, and desire to plan for your children's college education, build a business or save for retirement, we'd like to develop a strategy to help get you there.
Financial Planning
What should you be invested in? There is no one answer to this question. A financial consultant can help you determine what investments are right for you, your family and your lifestyle.
Retirement Planning
With life expectancies increasing, many people spend up to one-third of their lifespan in retirement. So it's essential to prepare for these years, and put your investments to work to account for them.
Investment Management
Successful investing involves time, discipline and a carefully selected balance of investment vehicles. Investment management is one of the more important investment strategies.
Estate Planning
Taking appropriate steps to develop a sound estate plan can provide for effective preservation and transfer of assets to your loved ones.
Fixed Income
Bonds provide investors with a wide range of investment opportunities than can complement an investment portfolio. Also known as fixed income investments, bonds are loans investors make to issuers.
Insurance Strategies
Planning for unforeseen events is one of the most often overlooked aspects of financial planning. Just one unfortunate event can quickly erode the value of a plan if you don't have appropriate insurance.